UserTesting illumi Award 2021
For the past two years I have been working at Post Office to create their UX research function. Before I started they tended to get agencies to do this for them as and when needed. Nothing wrong with that, but the idea was to create a more self-sufficient team.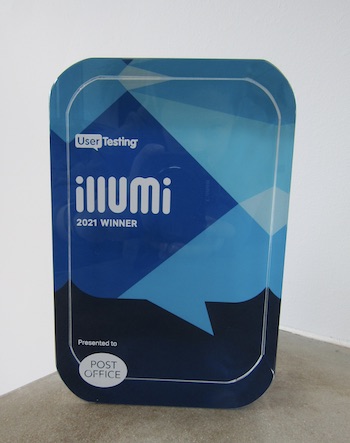 I have spent my time doing research, but also educating the business about what UX Research is and why it can help them. It has been hard work, but we are now at a place where most of the wider team have at least heard about UX research and quite a lot of them have worked with me on projects.
And of course I have been working from home for the last 18 months which has really helped. Not!
But I have been so lucky. As we went into first lockdown (about a day before I was due in a lab to do a usability test) Post Office were also signing a contract with UserTesting.com which meant that rather than having to fudge together some homemade remote testing outfit, I could just login to their shiny platform and carry on where I left off. This was amazing and I have made full use of the platform ever since.
Then this summer UserTesting announced they were open to submissions for their annual illumi awards. I nearly did not apply. I was busy and they wanted lots of detail, but I was poked by various people so sat down and wrote my application, submitted it and forgot about it. I do not win stuff.
You can imagine my shock to receive an email saying I had won!
I am delighted to have won and I know the UX team are too. We have all been working really hard to make UX the best it can be at Post Office and helping the designers to test their designs in a timely manner has been really important work.
But I could not have made the application I did without keeping good records of what I have done. Obviously I have a research repository where I share all my findings. But I also have a Trello board where I keep track of all the requests that come in, in date order. Once they are completed they get moved to the Done pile, so when someone asks me for examples of a project where X happened it is pretty straightforward to scroll through the list and remind myself what I have been doing over the past two years. It is also useful when your manager asks you, out of the blue, roughly how many studies you have run this year.
So whether it is for an award submission, a performance review or job interview, it is really handy to keep a good detailed list of what you have been working on, so the details you need are at your fingertips and ready to make you look amazing. I bet you do way more than you think you do - I know I do.