Interview with Rik Williams
This week I continue the 'from the horses mouth' interview series, talking to people within the UX and digital world to find out how UX research fits into their process.
This time I spoke to Rik Williams, UX Architect at Moorfields Eye Hospital.
Rik has been a UX Architect for 14-years. He combines inclusive user research and content architecture design methods to make accessible products and services which meet real needs. He also co-organises The Research Thing meetup and contributes to the UK chapter of the User Experience Professionals' Association (UXPA).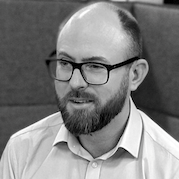 How did you get started in UX?
I started comparatively late, in my mid-20s. I knew that I didn't want to pursue a career in the field I'd studied at Imperial, but… in what? My solution was to seek the professional careers advice that I'd (naively!) squandered at school.
Over the first third of 2005, I worked with my careers adviser to figure out a direction. Something that sticks in my mind is the results of a CD-ROM based careers test which she gave me. It came out with roles like Archivist, Library Scientist, Web Designer and Multimedia Developer. So, if you Venn diagrammed those roles, you'd have the role that I do, but was too new to be in the CD-ROMs database, UX Architect.
At the time, this was quite the shift in my expectations. However, I came to realise that the parts of my UG course that I'd enjoyed most lent themselves to experience design, content design and content engineering.
In 2005 crammers like General Assembly and MOOCs like Udemy had yet to be invented, so I needed to return to higher education to train. So I tracked down a taught Masters in what is now the deliciously archaic sounding field of 'electronic publishing'.
During this course, I took modules in human-computer interaction and accessibility, which overlapped with a sibling MSc in Human-Centred Systems. I realised that whilst I wasn't on the 'wrong' course, I'd instead have taken the MSc in HCS.
Ultimately, I was able to take both Master's in series and then begin my career as a Front-end Developer, albeit with a heavy bent towards user-centred content engineering and information architecture.
What do your friends and family think you do?
This yo-yos between Network Engineer (because: 'digital') and design critic — I can often be found ranting about confusing, überphaffy or inaccessible digital services.
How do you convince stakeholders of the value of doing research?
A lot of people would mention user-centred and data-led stories. Similarly, aligning research purpose to performance outcomes essential to the business. These approaches are proven to work, especially if they're integrated, cohesive and compelling.
But I wouldn't stop there. You can have the best data, or business case, extolling the virtues of doing research, but it doesn't matter if it's not believed and acted upon by leadership.
One of my big wins of 2021 was the approval to invest £350k in UX at a national charity, including the recruitment of a full-time User Researcher. The things which worked for me in this instance were:
diagramming — using information visualisation to make understandable and straightforward quantitative data about 13 highly siloed national support services;
storytelling — using short cognitive walkthrough recordings to make tangible the brokenness of user journeys through these siloes;
OKR framing — mapping these directly to the mission and strategic objectives of the charity;
leadership support — my work was championed directly to the Board level (management and the Trustees). It mattered not that I was right. It mattered that leadership had contact with the data, believed it and took action.
What's your favourite research method?
I think that methods that effectively narrow the gap with reality are amongst my favourites. So especially ethnographic approaches, including contextual inquiry.
This is particularly effective in gathering (sometimes 'hidden') insight - through a semi-structured interview and direct observation - about how people truly use a product or service, why they 'do what they do' and where they're actually doing it.
Some of the most incisive insights during my 5-years working with people living with, or affected by, the dementias came from user research in the home. The effects of progressive and terminal brain disease can be glimpsed in controlled research spaces, like an interaction lab, but not the nuance of its actual, messy reality.
Generally, it's easy for teams to keep the user at arm's length. It's inherent to be tribal. At worst, this means that the user becomes a stranger. Ethnographic approaches are a great antidote to this.
What's surprised you the most about working in digital?
I think probably the openness and collaboration. Perhaps it's inherent in the righteousness of digital, and the web, but the sheer scale of content by practitioners surprised me most. Until the pandemic, I joked that one could live on the free pizza and beer from after-work UX events in London. I can't imagine that would have been true for people working in sales or HR!
More generally, just the pace of change. I think of it as a glacier. Progress is slow enough not to be appreciated week-on-week, but it's pretty noticeable when you look back year-on-year. Similarly, the scope to reinvent your professional focus inside the broad, welcoming church of UX. Whether deliberately or because you are continuously learning your job.
What book/video/podcast would you recommend?
I might answer all three media types, along with the bias inherent of a UX Architect…
Book: Think Like a UX Researcher: How to Observe Users, Influence Design, and Shape Business Strategy
This is the book I wish I had at the start of my career. It's worth every penny — at thrice the price! Most anything published by David Travis is UX research gold.
Video: A Lens A Day - Conversations about Information Architecture
This playlist from Dan Brown works through core concepts, or 'lenses', in IA, like wayfinding, trust, serendipity and physical metaphor. Even if you're a pure user researcher, I guarantee that you're still working with IA. And understanding the interplay between structure and content in your product/service, the data available to your users and how they assemble these into information will likely help you in your practice.
You can start anywhere, but the episodes on Wayfinding and Serendipity are strong.
Podcast: The Object-Oriented UX Podcast
If you need to…
wrangle messy user research insights into a user-centred structure,
research the fundamentals of the domain, or system, that you're working on,
uncover what the real research questions are,
…then OOUX is your friend. Start with episodes 1 and 2.
What do you do when you get stuck?
It can be super frustrating when you hit a wall in your work. So here are a handful of things I try…
Start — sometimes, you have a problem that seems too large or complex. It's easy to prevaricate and become stuck. Consider starting anywhere, or probe multiple entry points to the problem. Essentially: start! As an adventure, the hardest part can be to set out and leave home.
Get outside — you can find yourself burning hours stuck on a problem… and at your desk! Try escaping for a walk, ride or run. Even a 30-minute stroll to/from a coffee shop might be enough time for your subconscious to come up with a solution. And wrestling with a problem during exercise still counts as knowledge work!
Revisit the literature — you're unlikely to be the first person to encounter the problem, even if you're working in a novel domain. Sifting through UX magazines and blogs is a start, but don't forget about academic literature. The Association for Computing Machinery (ACM) Digital Library is a great start point.
Ping the hivemind — look beyond yourself, and your immediate team. Ask questions over at Twitter, LinkedIn, or on subject-specific networks like Mixed Methods [Slack], a11y [Slack] and World IA Day [Discord]. And take the time to contribute to help others who are in a similar position. And not to forget the UXPA (UK) Members Slack!
Simplify — it's effortless to make something, whether your research operations, methods or solution, complex. If you're stuck here, consider whether you're overreaching. Look for ways to simplify through subtraction and prioritisation. What can you remove? What's most important?
Create data — this almost goes without saying in a user research newsletter, but it bears repeating. You might find that creating new, or additional insights/data is necessary to unjamming your block. A textbook example might be measuring the user experience to make a case for user research funding.
Diagramming — this might be because I'm a UX Architect, but I love a good diagram to help make sense of something. And diagrams can be powerful at wrangling confusion into sense. See my example above!
Collaborate — last, but not least, involve others in your process (and especially when you're blocked). A problem shared is a problem halved. UX is a team sport. I could go on! But the point stands — if you're stuck then you don't know, or can't recall, ways to become unstuck. External perspectives can be invaluable.
What advice would you give someone just starting?
Own your known unknowns. By definition, you'll know the least about experience research/design than at any other stage of your career. Both in terms of the theory and, most importantly, its application in real-world projects.
So embrace this and seek to get contact with as many applied research methods as possible. Similarly, even if you think you want to be a pure researcher, consider dabbling in other parts of the design and/or development process.
Whether this is UX strategy, information architecture, content design, interaction design or even coding. At worst, you might surprise yourself. At best, you'll have a stronger foundation to execute research and — crucially — to affect the successful adoption of your insights.
Finally, consider mentoring. Mentoring can be valuable at any/all career stages, but it can be beneficial for someone experiencing change, like entering a profession.
And remember that you don't need to be a late-career practitioner to become a mentor. For example, even if you're a junior, you might benefit from mentoring others in training or looking to enter the industry. Finally, remember how much you already know.
An excellent place to start is the UXPA (UK). Consider our Mentoring Programme or January event Starting out in UX on 20 January. (tickets via Eventbrite soon)
What's your favourite user research quote?
"It's about catching customers in the act and providing highly relevant and highly contextual information". — Paul Maritz on how effective user research closes the gap with reality.
Thank you to Rik for taking the time to answer all my questions. Rik and the team are busy putting together the next series of events for The Research Thing. Join the Meetup group or follow them on LinkedIn and Twitter to get notifications of the next one. Subjects include behaviour change; children and older populations; extreme domains (prisoners, terminal illness); socio-economic minorities and a student research showcase.
If you know someone you think I should speak to for this series, do let me know.
---
If you enjoyed this interview and would like to read more like this, check out The UX Life Chose Me newsletter. Subscribe to get interviews like this directly to your inbox once a month.