Interview with Penny Rance
This week I finished this season of 'from the horses mouth' interview series by answering my own questions, following requests from nearly everyone I have spoken to over the past two years.
I am Penny Rance, Senior UX Researcher at Post Office.
Penny Rance is the Senior UX Researcher at Post Office, where she spends her time building up the research function, recently by taking on two apprentices.
In her spare time she loves to run, preferably before work, walk the dog, mostly at lunch time, and make things. She loves to make things with her hands, including but not limited to knitting, bookbinding, paper making, crochet and sewing, and she's currently learning how to make glass lampwork beads in the studio at the bottom of the garden.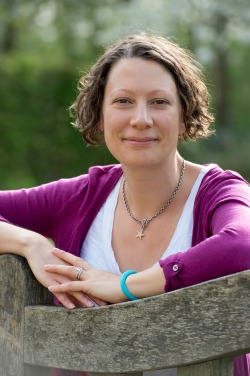 How did you get started in UX?
I always wanted to be a designer. I didn't go to Uni, but to Art College and then Landscaping College, to learn how to be a garden designer. But things didn't quite go to plan and I ended up working for the Civil Service as an administrator. While there I started a degree with the Open University - although at that point I didn't know it would become a degree!
I moved to the University of Surrey, still working as an administrator, but wondering what I would do next. I was hearing some really interesting things about the web at this point and so did a home learning course for a Website Manager certificate. I learnt lots about the web and a bit about how to code. So when a job came up in the University Digital Team to be an admin for the website I had enough confidence to go for the job!
Those 4 years gave me a really good grounding in how websites work and allowed me to finish my OU degree. But I was starting to get a bit bored of just adding content to the website and fixing issues. So I had a word with my head of department who asked me if I'd heard of UX? Apparently I was already kinda doing it.
He sent me on a four day conference with Adaptive Paths which blew my mind! Wow I really wanted to do that! So I started reading anything I could find on the subject - books and articles etc, and attending all the events I could. Seeing as I didn't have much money I tried to find free one's or ones I could volunteer at. This was mostly with UXPA and LTUX in London.
But I was still a bit stuck as to how to get a UX job, so ended up quitting my job and doing a 10 week General Assembly bootcamp. This was when they were still only running one course at a time and while it was pretty cool, it was also totally consuming. I was commuting into London every day, working hard each day and coming home exhausted with no idea if I would get a job at the end of it. I couldn't have done it without the support of my amazing husband.
I was really lucky to find a job as a junior UX designer only a month after finishing with GA. I say lucky, but I do think my experience working in the Digital Team was a massive help.
It was while I was working as a designer that I started to realise that actually I wasn't a very good designer and the thing I really enjoyed was talking to people about their problems and trying to fix them.
In all my design roles I always included some sort of research even if it was just showing my designs to the guy in Finance.
My favorite piece of research was going out early one Sunday morning to speak to cyclists before a sportive event to test out a new navigation for the Wiggle website. Mocked up using Keynote and using my iPad we got a really good understanding of what worked and what didn't.
So it was only a matter of time before I ended up in a role which was much more research focused. Here I learnt all the stuff I'd not been able to learn from reading books and articles or going to events. The nitty gritty of hands-on research, including what to do when you managed to make someone cry in an interview!
What are you doing now?
I am now a Senior UX Researcher at Post Office.
I joined 6 months before covid and lockdown and was their first in-house researcher, before this they had always used agencies for research.
In that 6 months I only managed to run one research study as I had to set research up as a function first. In an organisation like Post Office, that means convincing people to give you budget and working out the best thing to spend it on.
Luckily as lockdown kicked in, so did our account with UserTesting.com, so lockdown was actually my busiest time as I learnt how to use the tool and started running tests for all the different products.
We are now starting to grow the team with the addition of two apprentices. This is so exciting but also nerve wracking as I try to make sure I teach them best practice and not all the bad habits I've learnt over the last 3 years! It also means I can start to be more strategic with research going forward.
And I'm still supporting LTUX London, but I'm helping organise the events now, rather than just standing on the door giving out name badges.
How do you convince stakeholders of the value of doing research?
When I started at Post Office no one really understood what UX research was. Then we went into lockdown which made it even more difficult to have those conversations. But I've got a brilliant manager who really understands what it is and how important it is and he really supported me getting started.
Now I work really closely with the UX design team who already know how important research is, and the Digital Product Managers (DPMs) who were very open to learning about what UX research was when I started and now make full use of me as they set up projects. Once they could see the insight I could provide them with and how it fitted into their work they didn't take much convincing to do more. We've worked together so much now that it's just part of the process for any project.
With the apprentices joining the team it will be about showing the DPM's how we can get more strategic with research to support their projects better.
How have you found is the best way of sharing your research insights or findings?
I still don't think I've found it yet.
I do a lot of usability testing and interviews, so I normally end up just putting it all in a PowerPoint presentation and then having a meeting with the stakeholders to talk them through the findings. As we use UserTesting most stakeholders have seen a lot of the tests live, so I only clip up really important things or things on unmoderated tests.
And everything is kept in a library so when I'm asked if we've done any research on a subject I can point them to the library.
But I do feel that there must be a better way of sharing what we do. As a team of one I was so focused on the doing, I forgot sometimes to tell the wider team what I was doing. Maybe as the team grows we'll have more time to work on the education piece too.
Do researchers need portfolios? If so, what should they include in them?
As an ex UX designer I do have a portfolio, but it very much focused on the design work I did. As a researcher it seems weird to me that they would want to see a portfolio of my work. I totally agree that we should have case studies that we can run through to show the impact of what we've done, but a portfolio is about images and design, not spreadsheets and post-it notes.
Anyone who asks a researcher for a portfolio doesn't really understand the UX process in my opinion.
What book/video/podcast would you recommend?
Anyone who subscribes to my monthly newsletter will have seen all the wonderful books out there that I recommend. I'd much rather read a book than watch a video or listen to a podcast, although I did used to listen to podcasts on the way to work when commuting was still a thing.
I guess it would depend what you were trying to learn more about.
For research - Erica Hall's Just Enough Research is a good starting point, along with Thinking Like a UX Researcher by David Travis. Caroline Jarrett's Surveys That Work is great if you're working on surveys.
Books like Thinking Fast and Slow by Daniel Kahneman or Predictably Irrational by Dan Ariely are great if you want to learn more about how people think.
I've just been reading Seeing Things That Others Don't by Gary Klein which is all about how people have insights which was brilliant. And I loved When Strangers Meet by Kio Stark. I could go on all day.
What's your favourite quote?
'This too shall pass'.
When things feel hard and you're not sure you can make it through, it reminds me that everything comes to an end eventually. And when everything is amazing, it reminds me not to take it for granted and embrace it, because everything comes to an end eventually.
What's been your biggest challenge?
Over the past three years at Post Office I've been the only UX researcher. I've worked really hard during this time to set up a research function and support my colleagues with the research they need. But no ones been able to give me any feedback on the research I've done and the methods I've used. No one else is a researcher and much as I would like someone there to point out when I've asked a leading question or to bounce ideas off when asked to answer some question I've not tried before, I've just had to do the best I can and make it up as I go along.
So now I can't help wondering what another trained UX researcher would say if they looked through my research library or saw me work!
What advice would you give someone just starting out?
Don't get into UX for the money. To be a good UX person you need to really care about the things you are working on. This isn't the sort of job you do 9-5 and forget about when you get home. It creeps into your life. You'll find UX problems everywhere!
If you're ok with that, then I would say start by joining a team where you can learn from those around you. Once you've got a really good understanding of how it all works, then go off and join that start up as their single UX person, but make sure you've grown a network who can support you in that role.
Oh and if you are asking for a connection on LinkedIn for the love of all things please send a message explaining why I would want to connect with you!
Where do you see the future of UX Research going?
I hope that companies will continue to see how important UX research can be in creating products that really help people and so increase revenue, although recent layoffs do make me wonder.
As the AI's get better I can see them being very helpful with analysing data, especially from big studies. I know many platforms are already using them for this and I can only see it getting better.
But I think it's unlikely we'd lose our jobs to them. Humans are just such weird creatures I can't believe a machine would ever really be able to understand us. So I think it's more likely they will assist us to help us work quicker and smarter rather than replace us.
And I'm currently thinking about how UX research can help in the fight against climate change. There must be a way I can use these skills to make a difference for the planet, rather than another shopping app for stuff we really don't need. Do get in touch if you have any ideas, I'd love to talk to you about it.
Would a governing body to help with training, standards and ethics help or hinder UX professionals?
I do think we need something, but at the same time I love how inclusive UX can be as an industry. If there was any sort of certification needed to become a researcher I'm not sure I'd be here now, however I think it would be better for my mental health. Rather than wondering if I'm doing the right thing, and should I really even be here, I'd have done the qualification or whatever the certification needed and know that I couldn't be that far off if I have that.
And a set of standards to work to would make training up my apprentices so much easier. I've had to create a training plan of my own and hope I've covered everything. A governing body who had all these resources in place would make it easier for all of us.
If you'd like to find out more about me you can find me on LinkedIn. If you want the best UX research and ReOps resources sent to your inbox every month you can sign up for my newsletter 'The UX Life Chose Me', and lastly as I said above, if you've any idea how I can use these UX research superpowers in the fight against Climate Change please do send me a message!
If you know someone you think I should speak to for the next season, do let me know.
---
If you enjoyed this interview and would like to read more like this, check out The UX Life Chose Me newsletter. Subscribe to get interviews like this directly to your inbox once a month.