Interview with James Parker
This month I have started a new interview series, talking to people within the UX and digital world to find out how UX research fits into their process.
I started the series by speaking to James Parker, Head of User Experience and Design at Post Office.
James has been at Post Office for just over a year, having been in a similar role at Camelot (The National Lottery) beforehand. His team are making a big difference, changing the way Post Office interact with their customers and Post Masters.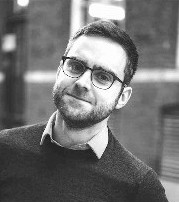 How long have you been working in the world of UX and digital?
I graduated way back in 2006 and went straight into agency after graduating, but I was already immersed into digital quite a bit before that, merging design with programming back in 1999, which is when I learnt my first line of code.
In that time what's been your favorite role?
That's a really hard question to answer. If you're not learning something in a job and it's not fun then you shouldn't be in the job. I'm very lucky that every job I've taken I've learnt something and I've loved it for its own challenge.
If I had to choose one (other than Post Office of course), it probably would have been when I moved client-side to a large conglomerate from agency, where I was able to influence such a significant change so early in the mobile curve. I moved there when mobile was really just becoming a thing and they had no strategy or plan for it, so I was able to influence quite a significant change. I was pretty young at the time, it was fun but it was also a really big challenge and that was very exciting. But every job is brilliant.
You say you enjoy a challenge, so what's been your biggest challenge?
That's the same in any major organisation. Helping an organisation understand why it's important to follow the needs of the customer rather than just following the money and to influence that change.
How do you convince stakeholders of the value of doing research?
By proving it. That's the beauty of our job, by taking a user centred approach we can play things back to stakeholders very quickly to give them the collateral they need to either pivot a decision or change their mind or influence significant change. We have the ability to do that and validate it.
What advice do you wish someone had given you when you were starting out?
You're the guardian of your own destiny. But I think the biggest thing I'd say is never be afraid to challenge no matter someone's seniority. If you can go into a room full of people with opinions and reference the data and insights to prove something, it's amazing what you can influence and change. I think it's really important that anybody knows that.
Have you got a book you would recommend?
Oh yes, there's a book I believe everyone should read, I was forced to read it at university. It's called Ways of Seeing by John Berger. It's about the interpretation of art. It's certainly not a clever book about user experience and research but it's about forcing people to look at things differently and digest information differently. It's a very powerful book.
What do you do when you get stuck?
Pull brilliant people in around me. You hire brilliant people to challenge and help you.
Where do you see the future of UX Research going?
That's difficult, research is a science that will always have a constant, but I suppost the big question is how the methodologies of today can support us with the speed and change of technology. Naturally there will be certain parts of our research tool kit that will be forever used because they are standard tools and methods that have been used for decades, and I don't see those changing. But naturally when technology changes we have to react to it, but how does research have to change?
Thanks to James for taking the time to speak with me. I am really looking forward to sharing more insights from people across the industry. If you know someone you think I should speak to, do let me know.
---
If you enjoyed this interview and would like to read more like this, check out The UX Life Chose Me newsletter. Subscribe to get interviews like this directly to your inbox once a month.