This week I continue the new 'from the horses mouth' interview series, talking to people within the UX and digital world to find out how UX research fits into their process.
This time I spoke to Gen Chow, UX Researcher at Facebook Reality Labs.
Gen is a user researcher who specialises in qualitative research. She started her career with American Express five and half years ago on the graduate scheme before moving on to Oculus London to work on virtual, augmented and mixed reality apps.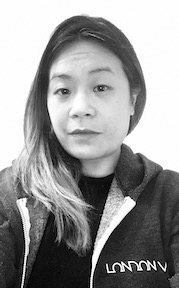 How did you get started in UX/digital?
My background was actually in law, and I did a Masters in Environmental Law at SOAS. I started working in enviro-legal publishing after that, and while working, I started studying social anthropology and development studies at Birkbeck part-time to understand the "human dimension".
Development studies was the way I started to think about user needs, because at the heart of it was how, if you're doing any development programme, the beneficiary has to be at the centre of it, otherwise it doesn't work. This is the same principle as UX.
The thing about social anthropology as well is that it helps you reflect on other people, which is a very good basis for UX. And it allows for all perspectives, which is what you need when you have to listen to your users. So I'd say that was the first grounding and basis of how I started.
So what happened next?
After a number of years, I quit my job, and was looking to upskill when I came across General Assembly (GA). I had never heard of UX before, and I remember asking a lot of people who were in IT and tech, what they thought about it, because I was considering the intensive General Assembly programme (UX Design Immersive, 10 weeks full time) which was quite a time commitment, and obviously you're not going to have any income for that period, and then you need to pay for the course…and my tech friends hadn't really heard of anything like this either in 2015, so they couldn't really recommend it. There wasn't a tonne of precedents before to say that this would work, and we certainly didn't hear so much about UX then as you hear nowadays, so it was a big leap of faith.
General Assembly was a great experience for me - I didn't think it would be so hands-on, given that I was used to the university model of learning the theory and then having to figure out how to apply it to the real world myself. They really structured it well to give you a good grounding in design thinking, and enough case studies to build a portfolio, with a tonne of constant feedback. And our instructors (Andrew Godfrey and Luis Klefsjo) had stupidly high standards, which was great and what we needed.
It became quite clear, though, that I was not actually that great at coding and I obviously couldn't design as well as some of the other graphic designers among us. But I did find people completely, intrinsically interesting, so I gravitated towards talking to people.
Coming out of General Assembly I would say I got very, very lucky. Scott Hardie, who was recruiting for American Express's tech grad scheme, reached out to me off the back of my profile at GA. Somebody had just recently decided not to join the January intake, and they had a space to fill and just so happened to be looking for UX-ers. So I graduated GA in November, they scheduled an interview in early December and I started in January.
What was American Express like to work for?
I was a generalist at the beginning and there were three of us who were UX designers on the graduate scheme, and we basically had to find placements in different teams in order to secure an offer beyond the graduate scheme.
At the time there wasn't a tonne of appetite for UX at the campus we were based in (they were trying to build up a practice), but the one thing I did know was that I needed to increase my skill level, and I needed somebody who had better UX skills than me to learn from. And luckily I secured a placement with Craig Macintosh's team of UX researchers within the wider Enterprise Digital and Analytics team, which looked after the global web and mobile experience.
They were based in New York and they were looking for somebody in London to be on the ground and run the usability lab programme there, and be the research point of contact for the product teams in London. I started running the labs programme in conjunction with an agency called GFK, and that was my first real hands-on approach to research.
But I think the step change in my research skills was when Craig secured two weeks of very intensive training in New York for our team. We'd been to Nelson Norman conferences, but I would say that it was this training that made me the researcher I am today. It was with a company that specialised in moderating and moderation skills (RIVA) and it was very hands-on, with long days with homework, but it was so in depth and incredible to learn from master moderators with 35 years of experience at that point.
We were taught the reasons why we do certain things in the sessions, how to write moderation guides, how we had to be particularly careful with our language, how not to ask leading questions, what's the best way to ask a question, what kind of follow ups to ask, how to hold a space and how to encourage people to talk to us.
They broke down phrases that were (and still are!) really common in many moderators' script so that I can't hear or see them now in a discussion guide without wincing. And I don't think I've ever experienced before that ability they had to give such kind feedback that was still constructive. Jo Ann (Hairston) had such high standards, that even when we were just hanging out in the break, and we'd be chatting on a personal level, I'd ask a question, and she would tap me, and kindly say 'Gen, do you want to try and ask me that again?'.
I also remember we did this focus group, where each of us researchers had to meet the same group of strangers, introduce our topic and get the discussion going. Then at the end of it, Jo Ann asked the participants to assess us all as moderators. We didn't know she was going to do that. So, my boss is sitting there listening to what they thought of us (he also moderated, so we got to hear what they thought of him too). It was honestly one of those moments where you just want to slide underneath the table. The participants basically told you where your weaknesses were, the unconscious things you were doing as a moderator, but they also let you know where your strengths were too. One of the things I still remember was when one of the participants said I made him feel heard. That felt like a great compliment.
What did you do next?
Then I moved on to Facebook because of virtual reality (VR). In my spare time I'd been looking at more innovative technologies, just out of pure curiosity and one of the things I'd actually done was go to this VR film school. This was a few years back with the Raindance film school. What they meant by VR was 360 films. I turned up and there were all these people who were quite intent in making and directing 360 films, and I was just there out of curiosity.
But what was actually really interesting was I could see actual applications for VR when I was there. Some charities like Greenpeace came in and talked about how they were using VR for immersive empathy, and how it would draw in the guys on topics they wouldn't usually care about, like harmful farming practices, because of the novelty of the tech.
What's it like to do VR research for Facebook and did lockdown change anything?
So I started working with Facebook, specifically on a programme of usability labs for particular products across AR, VR and MR that Oculus London were looking to develop. There were a couple of in house labs all hooked up for VR with an Oculus Quest and a Rift in there, and we would have participants come in to do the usability tests.
Obviously we were limited to the sample of people from London, but they didn't have to have a headset, so we could have had a wider spectrum of experience for VR. You'd have to bear in mind though that the novelty effect for VR newbies would affect their feedback for the experience you were testing, not to mention, add quite a bit of time for getting used to the hardware - the controllers and the headset.
But with the pandemic we did have to move to doing it all remotely, and now we're limited, because our product's not yet released, to internal users who have headsets and have signed up to be part of a dogfooding programme. However, geographically you can have people in Israel, or the US or UK, or wherever employees with headsets are.
It was particularly painful at the beginning, as the capability to see inside someone's headset wasn't really there. We had to jump through a series of quite complicated hoops to get that to work. But now we've got the ability to cast easily from headsets to desktops, it's not too bad a process.
It can take a while to set it all up though. You have to get them into the right build, get the casting going, and then to share their internal headset screen, so you can see what they're seeing, and then get them to move their laptop camera, so you can see what they're doing in their real space. Participants can feel burdened before they even get to try the experience out. In the lab, you can just put the thing on their head and it's cast onto the room's monitor in a couple of clicks, and sitting in a room with them, you can just observe their gestures directly. But the bonus of remote studies is that you can see the in-use context, and better understand the product in the wild (i.e. people's actual spaces with all the hazards they may encounter!)
How different is usability testing a VR app compared with a desktop or mobile app?
The interesting thing with doing usability research is that with VR being sort of an unknown entity at the moment, people's mental models aren't yet set, and the design standards that people are aware of with mobile and websites therefore aren't there. So when you do usability studies you're still in an exploratory space. For instance, imagine you're trying to evaluate how usable something is in VR, but you've created a completely novel way of doing something. So one of the things we're doing in our application is creating icons for some of that novel functionality. And I was trying to assess how intuitive the icons were. And then it just clicked that it can't be intuitive because there's no mental model for this. Everybody knows the floppy disk means save nowadays, they've borrowed that from reality, but what is the icon for bringing something from your real life into VR? What's the icon for that?
One of the biggest things is that you have to contend with the novelty effect. People are going 'whoa, this is cool!' Especially if you're having members of the public come in and try it, and they've never used VR before. And sometimes it's very hard for participants to dissociate the coolness of whatever is happening versus the actual experience itself, in terms of how usable it is. So it might be frustrating and potentially not that helpful or useful for them in their lives, but they are like 'this is so cool, I'm gonna forgive it anyway' and still count it as a positive experience. Or you get the complete detractors who think it's useless and really hard to get into. So there can be quite polarising feedback and you just have to be aware of that and take it into account.
What are the considerations for designing for VR?
There are so many things to consider because it's not just one interface. It's not just you and the screen, in the case of our app it's you, your interface in VR, and other people and their avatars, so there's this social aspect as well. When people get into VR there's a sense of it being real but not real, so people end up doing things that would be completely inappropriate in the real world, like going up to people and staring at their avatars. You'd never go up to people and try to touch them, or stare at their beard in real life right? It's seriously odd. But as our avatars aren't photorealistic, and sort of cartoony, you think that person isn't really real, and you may feel like you can do inappropriate stuff, especially at the beginning. But the other person may well feel violated by your actions, even as an avatar. There's a whole layer of almost ethical consideration, and culture creation. Then there's how you may be reacting to something in real life, like bending over to pick up something, that ends up looking completely inappropriate in VR.
Where do you see VR in the future?
I think most people think of AR as perhaps the more north star goal for the consumer markets because I reckon not being aware of your immediate surroundings is alien to our sense of survival. VR is completely immersive, you really do think you're in that space, that is the power of it. But that means you need to be quite secure in your real physical space and very few people have the space required to do a lot of swinging or moving around. You need the safety to immerse yourself somewhere and not knock something over or fall over your cat.
And many people we have spoken to have a lot of concerns about feeling nauseous while using it. I imagine once the apps get really good at quite niche use cases, VR could take off, like for exploring 3D architectural plans, or for training and remote learning purposes. Given the past year or so, we need more effective remote collaboration more than ever, and VR might well deliver that.
Thank you to Gen for taking the time to speak to me about her work testing VR. If you'd like to hear more from Gen you can find her on Linkedin or Twitter.
If you know someone you think I should speak to for this series, do let me know.
---
If you enjoyed this interview and would like to read more like this, check out The UX Life Chose Me newsletter. Subscribe to get interviews like this directly to your inbox once a month.