Interview with Fiona Baker
This week I continue the 'from the horses mouth' interview series, talking to people within the UX and digital world to find out how UX research fits into their process.
This time I spoke to Fiona Baker, Freelance UX Researcher and Consultant at BalancingUX.
Fiona works as a Freelance UX Researcher and Consultant and a Part-Time Data Manager for Parks & Gardens UK. She has a background of over 20 years in the UX industry and has worked in a range of environments including Local Government and UX Consultancies and started up her own sole-trading business named BalancingUX.com.
When she is not working on UX projects, Fiona is a mum, wife, aspiring writer, painter, skiing and yoga fan. She is currently writing the third book of 'The Kingdom of Time' series after self-publishing the first two stories, 'Time Stands Still' and 'The Frozen Realm'.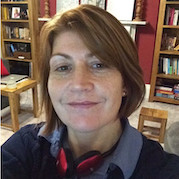 How did you get started in UX?
So I did a BSc in Applied Psychology and Computing at university. I always wanted to study pure psychology as my degree, but I got talked out of it because I was thinking about going into Clinical Psychology but it's really long and intensive and I wasn't sure if that was really for me.
And then I saw this course at Bournemouth University and I thought it sounded quite interesting. I thought I'd go for it and see where it takes me.
I got my degree and was looking for jobs, but I didn't really know what I was looking for. In 1997 user experience wasn't really a big thing in the UK, so I was looking for anything that involved computers or maybe psychology. I came across an advert for a job as a Computer Based Training Engineer at a company called Westland System Assessment Ltd. It was based at their offices in Yeovil and was an offshoot of Westland Helicopters. They used to develop computer based training lessons for engineers and pilots. So I got the job and found myself in this really great team, there were graphic designers and animators and subject matter experts. It was a strange first full-time job but it was really good.
I decided to move on after a year and landed a job as a Usability Analyst at Orange PCS in Bristol at Aztec West. After an eventful journey to the interview, I was stuck in traffic due to an accident on the M5, I had a great interview and was offered the job. This was the role that gave me the start in the field of UX and actually channeled what I was doing.
At Orange I got to carry out research on new mobile phone technology that was just coming in. Things like texting, WAP, GPRS, IVR and all this before the advent of smartphones.
It was really quite amazing when I look back now. I was actually in a place where all of the mobile technology that we take for granted now was just starting. Like video calling on mobile phones, I remember doing testing on two phones and we had to be relatively close together to get it to work.
I look at that now and say wow, it's such a short space of time that all this has happened!
Following this I have worked in local government and in specialist UX consultancies which has given me different perspectives on work environments and how UX is used or in some cases not used to drive human focused technology and interaction. I also worked in FE at my local college for 4 years and gained my PGCE which was a great achievement. Following the birth of my daughter I decided to finish teaching and return to UX Research freelancing.
Freelancing was a personal choice as I was finding I was spending more and more time commuting. After starting a family long distance commuting was no longer an option for me and I had to find another way of working.
My husband was working full time and I knew that I wanted to be able to raise our growing family. My son went to nursery on three days in the week and I was able to do some short term UX work on those days. And that's how it started.
In a way, I had to re-evaluate what I was doing, and to make adjustments regarding my work life to suit how my family was growing. I feel lucky that I have been able to work in this way. Our children are getting older and this is now enabling me to work additional hours but still fitting in with our family life. I never take things for granted and am grateful that I am able to work in this way.
What do you look for when taking freelance roles?
I look for projects which are interesting and also with clients that are happy for me to be flexible with work arrangements. At present I am unable to take a 9-5 role and I would never take on a project that required full-time hours as this would not be a practical arrangement for me. I am always honest about what hours I can work and what my schedule is. There's no point trying to fit in 9-5 hours if it puts too much pressure on you and you don't do your best work.
I've done some really random projects from small websites to massive global websites. I don't want to go down one channel. I think when you're doing UX research having a broad range of projects that you have been involved in can expand your awareness and perspective.
I think you find things you've done on one project that come up in something you wouldn't expect. I don't think there's anything that I have refused to work on due to it's subject, it's more about timescales, scheduling and whether I am the right person for the job. Yes, money is a factor but it's definitely not my driving force regarding UX research projects.
How do you approach joining a new team?
I always ensure I find out who I am working with and what they expect from me as a Freelancer. I like to ask questions; this helps me to find out as much as I can before I am involved in any project work. I like to make sure that I know what part I am playing within a project team.
Before the pandemic, it was sometimes quite daunting starting a new project in an office that you are new to. It's like constantly starting a new job over and over again. However, a positive of the Covid pandemic has been all the Zoom calls, because it takes away the feeling of intimidation of walking into an office where everybody knows each other.
It's helped because people are calling from their front room, or dining room and it's leveled everything because you don't feel intimidated having to walk into reception or security and have them phone up because you can't get in. Actually that's been quite good.
How do you access the tools you need to do research?
I have my own tool set, but obviously you get some companies that have their own, so I always ask them what they want me to use and if I can have a login to their specific software. Especially because some of the UX tools are so expensive, for a freelancer it's just not sensible or economically possible when you're not using them day to day.
Some tools allow you to use them for free up to a certain point which can be quite useful. And if you have repeated contracts and you have an email address then it makes it easy. And I always ask if clients/organisations have templates that they want me to use or if they want their reports done in a certain way.
How long are your contracts in general?
Usually quite short. I think the longest one was just over a couple of months, but not every day.
It depends on the part of the project I'm actually involved in. It could be a few days doing an expert review or looking at heuristics or a couple of months doing customer interviews, which could include creating recruitment screeners and task questions for scenarios and report writing. It can vary.
How do you convince stakeholders of the value of doing research?
Always identify the impact on customers or those who would be using the product that is being researched. ROI is always important for businesses but sometimes it is not a quick return and the level of customer engagement and improved customer satisfaction is more important. Implementing research early in a product lifecycle can highlight things which potentially could be missed during development and cause delays and costs further down the line.
Research shouldn't be seen as a nice to have or a delay or distraction from developing as it can highlight the positive impact that a product or service can have on its customers/target audience, not just the negative requirements for change. Research can help businesses adapt and develop by showing how they are listening to their target audience.
What's your favourite research method?
This can depend on the research being done but ultimately, I enjoy talking to people and doing Interviews. This can give a wonderful insight into how target audiences use products.
What else do you use your research skills for?
I currently also work as the part-time Data Manager for Parks & Gardens UK.
It is a leading resource for research and information about designed landscapes, parks and gardens across the UK. We are currently working on updating the content, the search facility and the long-term development of the website archive. It is an excellent historical research resource for people interested in designed landscapes, parks and gardens across England, Ireland, Scotland and Wales. Some are open to the public, some now don't exist, some are very small and some are privately owned but there are over 9,500 records in this archive of design landscapes. The listings contain historical information and research, including whether they are listed, have kitchen gardens or walled gardens and soil types, types of plants and trees and how they came to be designed and who designed them. The archive also houses over 2000 biographies of landscape designers, artists and people who've been involved in garden design.
It is not only a project to maintain the archive but a project to develop it and make it accessible to more people. This is historical information which should be kept, maintained and widely available for future generations. We are currently working on a project to improve the search facility across the site which has been utilising my UX skills.
What book/video/podcast would you recommend?
I still like my books for reference and I love:
Leonardo's Laptop – Shneiderman
Think Like a UX Researcher – Travis & Hodgson
The Design of Everyday Things – Donald Norman
The User Experience Team of One – Leah Buley
The Language Instinct - Stephen Pinker
What advice do you wish someone had given you when you were starting out?
It's okay to say no to a job or project offer. That it is okay to not know everything or see everything. That you don't have to be full of insights all the time and you don't have to find or be the next big thing in UX Research. It's okay to be a focused UX Researcher, you don't have to be a UX Unicorn.
What's been your biggest challenge?
Knowing my worth as a UX Researcher. Working as a freelancer and being a parent as well. It can be difficult to keep going when you are a freelancer working on your own, in a team of one.
Trying to create a portfolio is a challenge. As a researcher I'm not sure if you can, I mean there are only so many photos of whiteboards with post-it notes on and miro boards that you can show and as a freelancer a lot of the projects you work on are under NDA.
So that's one thing I've found over the last 10 years that I still don't know, is if I need one and how I should create one. I welcome anyone to come and speak to me and help me make one because I have no idea where to start.
Who inspires you?
My husband, as he has worked extremely hard to get where he is and is talented not just in his job but musically too. He plays multiple musical instruments and sings in a band. He is also very patient and thinks about a situation before jumping in which is often the opposite of me. He also is good at avoiding social media which is very inspiring.
Also a UXer/Navigation Design Expert called Emma Chittenden (Web Whisperer) who is very talented and is constantly evolving her business model. She has been through so much and is providing consultancy, training and digital navigation design knowledge which is targeted, influential and insightful.
What's your favourite quote?
"To be yourself in a world that is constantly trying to make you something else is the greatest accomplishment." Ralph Waldo Emerson
"Never mind the Prosecco, where's the bl**dy rum?" (Lol this was my friend Amanda at my husband's birthday party)
Where do you see the future of UX Research going?
It's difficult to tell as I see a lot of UX Researcher roles which are combined with UX Design and UI Design roles. I would like to see the role of UX Researcher to be more defined and celebrated.
Research is key to finding out about products and technology and what drives humans to use them. Without UX Research we are just building things without thought, emotion and empathy for those who are using it. I would also like to see UX being taught in Secondary education and given more focus and time in FE.
More schools are educating children to be able to code and develop which is great but they also need to show that UX research and design is an essential part of any tech development for software, games and apps. How can you design or develop something if you don't know who your audience are, and is what you are designing going to meet their needs and requirements.
Would a governing body to help with training, standards and ethics help or hinder UX professionals?
I think a governing body would be helpful to provide more guidance, structure and backing in UX. I think there is a need for support for UX professionals which could help to provide more credibility to the industry.
As previously mentioned there is little or no training or education regarding UX in secondary education and FE. Children are being taught how to develop and code but not how to ask the questions about why they are creating something and what it could do for the person using it. This seems quite back to front and doesn't give the understanding that you have to ask the questions before you design something.
Thank you to Fiona for taking the time to speak with me and answer all my questions. You can find Fiona on LinkedIn or email fionabaker@balancingux.com.
If you know someone you think I should speak to for this series, do let me know.
---
If you enjoyed this interview and would like to read more like this, check out The UX Life Chose Me newsletter. Subscribe to get interviews like this directly to your inbox once a month.