Interview with Chris Bailey
This week I continue the 'from the horses mouth' interview series, talking to people within the UX and digital world to find out how UX research fits into their process.
This time I spoke to Chris Bailey, Senior Accessibility Manager; President of UXPA UK.
Chris started his career in academia where he gained experience of a range of user centred design methodologies and research methods. He completed his PhD in 2012 which focused on the development of an effective web accessibility inspection method for novice evaluators – the work gave him a deep understanding of accessibility and usability evaluation methods. Chris published research on a range of other topics related to accessibility and inclusion. He's worked in specialist UX and accessibility agencies as a Senior Consultant and in Lead and Senior Accessibility and UX Management Roles in large corporations. He's active in the community and was on the organising Committee of the Web4All (W4A) Conference from 2015 – 2018. Chris is currently the President of the UK Chapter of the User Experience Professionals Association after joining the committee in 2013.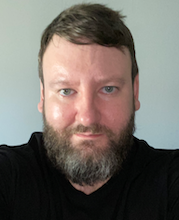 How did you get started in UX?
By complete accident. Growing up as a child I'd always been interested in computers, but more for gaming, rather than a coder or developer. My Undergraduate Degree provided me with a balance of the theory of designing content for specific audiences and how to work in a digital team and create digital assets. I completed a Masters Degree in Multimedia Applications in 2002. Think creating bespoke web content, learning basic HTML & JavaScript using Dreamweaver and a heavy dose of Flash and Director and that is pretty much the most '2002' Masters Degree you could take!
In all seriousness, it developed my skills in producing content for specific groups of users. Those principles haven't changed. My thesis focused on developing a software application for a very specific user group, so that was my introduction to what we now know as 'UX'. I did ok in my modules, but got a distinction for my Masters thesis. That got me a job as Research Assistant and PhD candidate in academia working on projects related to digital accessibility and user-centred design. Developing a specialism in accessibility, a deep understanding of research methods and qualifying as a Doctor was my way in.
Moving from academia to industry was enforced due the nature of short-term research positions, but it wasn't always an easy transition. Having a PhD doesn't necessarily mean anything to anyone outside academia when applying for roles in industry. Some companies appreciate it - think a massive social media company - but it can count against you. For me, it's given me a strong confidence in my own capabilities and will always be what I'm most proud and passionate about.
What's your favourite research method?
Method or methodology? I know the discovery phase is fascinating, but my background and specialism is evaluation and measurement. For me you can't beat one-to-one user research sessions, evaluating the UX and accessibility and really understanding how users interact with a product in a live context. That may sound like fault-finding, but even when you conduct thorough formative research, the practicalities of how that is implemented sometimes don't work in real life. You can learn more about UX and especially accessibility from moderating even a relatively small number of research sessions than you can from reading about standards and guidelines. That may be an unpopular opinion!
It's been a few years since I looked at it, but adopting an action research methodology is very interesting. It means as a researcher you can take, well, a more 'active' position on what you are investigating and really challenge your hypothesis as you're pursuing both knowledge and change.
How have you found is the best way of sharing your research insights or findings?
For me, inviting stakeholders to observe a research session and/or providing them with video highlights afterwards so they can understand and empathise is the best way. We need reasonably detailed user research reports to describe and document issues, but there should always be an executive summary and clear, concise video highlights to distribute.
Also, the higher-up you progress in an organisation, the less time you have with the people who have the power to really make a difference. You might get a 30 minute meeting, and of that you might get to speak for 10. If you're lucky. You need the video highlights to demonstrate the impact on users, but also the report so you have the detail to describe the issues when questioned. Bear in mind, you will be questioned and challenged...
What's surprised you the most working in digital?
You can have people in very senior positions who are responsible for decision making and delivery who have very little idea of how the specifics of digital technology or UX works, but they get things done. You can also have people who are extremely knowledgeable about their field, but would struggle to organise a…. I think what I'm trying to say is, despite what anyone says, UX unicorns don't exist. A good team will have complementary skillsets. We can't do it alone.
Who inspires you?
This is the hardest question. I've been fortunate enough to meet so many amazing people in my research and UX journey. Also, I've been involved with UXPA UK since 2013 so have seen so many inspiring speakers.
I've been fortunate through my involvement in my role with UXPA UK to work with Rolf Molich. It's rare you get to work with someone who helped define the very industry we work in. If it wasn't for his pioneering work with Jakob Nielsen in developing the Heuristic Evaluation in the early 1990's, the usability and subsequent UX industry may not have developed as it did. He's also been instrumental in the longitudinal Comparative Usability Evaluation studies. The results of these really help us understand our profession.
He's still passionate about the industry, in particular developing a UX curriculum which can educate those who aren't specifically in UX roles, but need to understand it. It's an impressive legacy.
When I was a PhD student I met a researcher called Luz Rello who is probably the most determined person I've ever met. She overcame personal challenges with Dyslexia to publish her PhD on the subject, has probably won more awards than Cristiano Ronaldo and also founded a non-profit organisation to support the detection and diagnosis of Dyslexia - Change Dylexia. It's an inspiring story to read.
What's been your biggest challenge?
Without a doubt, completing a PhD. A PhD itself isn't necessarily that hard, but you need so much focus and discipline. The problem being I don't always possess an abundance of either quality! The biggest challenge was learning how to train these skills and reaching the point where I realised that as much as your supervisor is there to help, only I could actually draw the conclusion and complete the work.
At one point I had to develop a series of custom metrics - which considering I remember struggling to get a C for my Maths GCSE wasn't too bad! It's a fantastic experience for personal development as you find skills you never knew you had.
What do you do when you get stuck?
I always like to think that there aren't very many completely new problems in UX, we're probably just finding or developing new or alternative solutions. If I get stuck I tend to go back to academic roots and read some research papers. Someone, somewhere will have written about their experience of using a certain research method or on a specific product or sector. If we take Virtual and Augmented Reality as an example, it may be considered a future trend, but research on the topic has been ongoing since the early 90's - probably earlier.
What advice would you give someone who's been doing this for a while?
Choose your battles wisely and don't beat yourself up if a decision goes against your feelings or even evidence from users you've gathered. UX is complex and sometimes user needs don't exactly match what the business can provide at that time. Patience is valuable and it might happen in the future.
Clients and stakeholders can be difficult to deal with, so read up on some basic principles of human psychology. Transactional analysis is really interesting.
Work somewhere where you feel you can make an impact, but always have an exit strategy and a 2, 5 and 10 year plan. I know that sounds contradictory, but things can change quickly in digital/UX in both agencies and corporations.
Why should UX Researchers be interested/worried about accessibility?
I do like the contrast in the two extremes of the question there and to be honest we need to be having these open conversations! UX researchers should be interested in accessibility as working with users with different capabilities really develops your research skills. If you're moderating a research session or facilitating a workshop we rely so much on non-verbal cues such as body language and eye contact to make things run smoothly. If you work with non-visual users, you lose that capability so you learn to develop other skills, such as tone of voice.
I understand why UX researchers can be worried about accessibility, as it's not something that is always easy to understand and people can feel uncomfortable or be afraid of causing offence. That's fine, it's to be expected.
I grew up with a parent who was disabled, so I understood the challenges people have, but accessibility covers so many other aspects. I think there's a little bit of a fear-factor, but once you work with people who identify as having a disability that soon goes. I've made mistakes myself, but it's all about gaining experience. If you're unsure about anything, it's ok to ask questions. Non-visual users will tell you what they can 'see' on the page; the language of UX doesn't really change.
I remember an occasion when I delivered a training session on conducting research with people with disabilities and at the end one of the delegates asked, "So really it's just like normal [sic] user testing, you just need to take a few extra things into consideration?" That's pretty much it.
How can UX Researchers help their product teams to be more accessible?
It's really important to build empathy in the product teams so people understand the dramatic benefits creating an accessible product can have on someone's life, and also the impact on the person if they don't. It's important to understand the human impact of accessibility. If someone with a disability cannot use a product or access a service, they may need to ask a partner, friend or family member for help. This can have a negative psychological impact in terms of reducing someone's confidence, so they are less likely to use other products and a person's independence can very rapidly be reduced.
Having someone with a disability or accessibility requirement talk to the team and speak about their lived experience is really effective - it creates a 'lightbulb effect' which was defined and described in accessibility research many years ago.
For every item in a backlog of accessibility items that need resolving there are potentially users who are at worst being excluded and at best being frustrated by their experience with a product. Users can be resilient and determined, but eventually they might just go elsewhere.
Is there a difference between accessible and inclusive?
Yes, I think so and as practitioners we need to be aware of that and make the distinction. The ethos of accessible design and inclusive design are similar, but if you think about it in terms of definitions and products, there is a difference. Let's take smart speakers such as the Echo Dot as an example. They rely on voice input and audio output, so strictly speaking they are not accessible to those who may have difficulties with speech or have hearing impairments. If you're a non-visual user, however, they provide a very inclusive experience.
What should accessible/inclusive research include/do?
It should go without saying that it should include people with disabilities and accessibility requirements. A good accessibility practitioner will be able to give an indication of what issues may or may not cause a failure of an accessibility guideline and describe the possible impact. Only users can give you a truly accurate indication of the severity of an issue in a live context and provide possible solutions about how they need or expect something to work.
Recruitment is a challenge though, so take every opportunity you can to build relationships with agencies who specialise in accessibility and disability or accessibility groups. From there you will gain personal contacts and they can really help moving forward. A few years ago I worked with a research participant who was very active in the local community and they helped me when I needed to recruit a large number of screen reader users at short notice. It did cost me a bottle of something as a present!
Why are accessible products and websites so important?
From a human perspective, you wouldn't like it if someone developed a product that you found very difficult or impossible to use, so why should anyone with a disability be excluded? From a business perspective, If you develop a product or service that is accessible to someone with a disability they will probably tell 10-20 or maybe even 100-200 people. If you develop a product that is inaccessible to them, social media has enabled users to tell 10-20,000 or even 10-20 million people. Do you fancy explaining that to your boss? Of course, there is a legal aspect, but as I often like to state before commenting on accessibility related issues, "I am not a lawyer…".
Accessibility covers such a wide range of issues, how can we possibly help everyone?
That's the elephant in the room. Sometimes we make design decisions that could potentially benefit specific user groups, at the detriment of others. It's all about providing content that can meet personal needs and preferences. Data visualisation is a great example of this. If you have a requirement to display complex charts, you will probably use colour as a primary means to distinguish between data points. That presents accessibility challenges. You can mitigate those by using additional visual formatting, such as adding patterns or shapes, which increases visual distinction, but adds to the visual cognitive load. For non-visual users, you probably need to use a data table, but that loses the immediate visual impact or overview for sighted users.
Providing the user with the capability to view data visually in a chart or as a data table can provide a more accessible experience. Allowing the user to select how many data points can be displayed simultaneously can further enhance accessibility, but of course can be more effort.
Where do you see the future of UX Research going?
Well, it looks like we're moving into automation and AI. It's fascinating, but it throws up so many dilemmas. To what extent will we as users accept automation, if it negatively affects any aspect of another person's life, such as employment prospects? Automation can mean some processes are more convenient, but would we be happy if the only option in supermarkets were self-service checkouts?
There are huge trust issues too. Will we ever accept fully automated, AI controlled vehicles if there is ever a chance it could cause harm to a person? This might happen if we have a mix of human and AI controlled vehicles. Who would be to blame in a crash? Also, humans program AI, so there could be inherent flaws somewhere. Humans are flawed, so although AI can 'learn', if it's fundamentally programmed by a human can it really be perfect?
Do you think it's time for UX professionals to have a governing body to help with training, standards and ethics? How should we go about creating this?
Firstly, I do have to declare a conflict of interest. Training is something which UXPA UK have been developing with the International Usability and User Experience Qualification Board (QXQB) for a few years. UXPA UK, along with several other national UX member associations in Europe, have worked to develop a Certified Professional for Usability and User Experience (CPUX) program. The goal of this is to establish a common understanding of UX terminology and practice demonstrated by certification which is recognised internationally.
Let's not forget though, ethics in research is nothing new. In an academic context, there are robust and rigorous ethics committees in place to review research proposals. When working with people in a professional capacity, there needs to be a policy in place. There is actually a published Code of Conduct (PDF) that members of UXPA associations and indeed UX professionals are expected to follow.
UX is still a relatively new discipline when compared to other professions such as law and accountancy so we're still learning about the impact of our own practice. It may be that UXPA itself evolves into a de-facto governing body, but of course it is difficult to come to a consensus about who exactly should govern.
Thank you to Chris for taking the time to answer my questions. If you'd like to learn more about UX or help support the UK UX community, consider joining UXPA UK as a member. There are plenty of opportunities to get involved. You could become a mentor to develop your leadership skills, or put yourself forward as an event curator, speaker or volunteer for when we are able to meet in-person again. Or just attend one of their great monthly events.
If you know someone you think I should speak to for this series, do let me know.
---
If you enjoyed this interview and would like to read more like this, check out The UX Life Chose Me newsletter. Subscribe to get interviews like this directly to your inbox once a month.