Interview with Anja Maerz
This week I continue the 'from the horses mouth' interview series, talking to people within the UX and digital world to find out how UX research fits into their process.
This time I spoke to Anja Maerz, Head of User Research at StudySmarter.
Anja is a research leader with a background in cultural anthropology. Experienced in managing teams of user researchers as well as leading and executing user research and service design projects for over 20 years. She's passionate about people and how they connect with technology. Anja has been organising the UK's biggest user research meetup 'The Research Thing', with over 4000 members, since 2013 because she wants to play her part in growing the community of user researchers.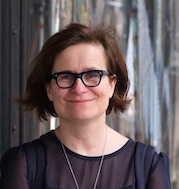 How did you get started in UX?
I'm a cultural anthropologist by background, and I wasn't sure what to do next after I got my degree. The option was to stay in academia, pursue journalism or work in a museum. I did some internships in museums because I thought that would be a good way to get experience. But I didn't know if this was the right thing for me.
Coincidentally, I found this book about jobs in 'New Media'. It contained information about different jobs and a description of what the job entails, then a story about the day in the life of the person who had that job. And it had a checklist of things that you should be able to do or at least be interested in if you wanted to do this job. I was curious about all the jobs, but I realised that there weren't many boxes that I could tick. The job that I was best suited for was called 'Konzeptioner' in German - it's a role mainly found in advertising and it's a mixture of information architect, UX designer, and copy writer.
At the time I had my first job after uni with my anthropology professor working on documentaries, but it wasn't very well paid so I taught myself a few of the things that were required for the role I had chosen. Equipped with some skills and my experience from that job, I landed an internship with an agency in Germany. They realised I had lots of transferable skills and asked me to do the minimum of 3 month internship. Together with a more senior 'Konzeptioner' I worked on different websites, was exposed to our clients and learned a lot. And because I'm an anthropologist I always did research whenever I could.
What are you doing now?
Now I'm the head of user research at StudySmarter, so I don't do a lot of research anymore, which I have mixed feelings about. I can't do what I really love anymore, but it's really rewarding to help user researchers become the best version of themselves.
How do you convince stakeholders of the value of doing research?
At StudySmarter, teams want us to do research, so I'm lucky and don't have to convince anybody. When I was looking for a new job, one of my criteria was not to go to a place where I had to explain again why research is important.
When I was a UX designer, I had to convince people that research was essential. At my first agency, I got a trial version of Silverback, not sure if that still exists. I ran usability tests with colleagues who weren't digitally savvy, and I recorded videos of those sessions. Then I showed the videos to the team of designers and developers, and it was eye-opening for them. But I think people now see the value of user research, and the battle is a bit different now. Maybe it's more about money for tools and roles rather than about doing research.
What's your favourite research method?
I'm an anthropologist and I love participant observation, but I haven't done it in so many years. You get so much rich data from doing this, but of course, as a start-up, it just wouldn't be economically viable to do this. In a commercial setting, methods like diary studies are great because you get so much more depth and visual material.
I also really like co-creation. In a past role, I set up living labs in different European cities. We taught air pollution scientists how to engage with the public to help solve the problem of air pollution.
What advice would you give someone just starting out?
Don't be intimidated by people who have more experience than you. User researchers are a nice bunch of people, and we like to help. That's why a lot of us are in this job, we want to help solve problems. So ask and talk to us. It's not always about finding one formal mentor. I always had people I could ask about certain things, like a method I hadn't used or about career progression.
Attending events can help. That's one of the reasons why I organise The Research Thing. When I came to this country, I went to loads of events. You meet so many people from your field, I'm still friends with lots of people I met at those events. And you learn loads too!
How did you get involved with The Research Thing?
It's a weird story. Another person had started The Research Thing, and he had done maybe one or two events that I had been to. And I thought, how can I get involved, this is my tribe! It turned out when I spoke to him that he wanted to quit and had already asked another colleague if she wanted to take over. We all joined forces and brought along another colleague each, so we were a group of four. We have been organising 3–4 events per year since 2011. Now it's Swetha, Rik, and I, who still enjoy doing this. The Research Thing has over 4000 members. Join us if you would like to learn more about user research. And do get in touch if you fancy speaking or if you'd like to host an event IRL in London.
To be honest, I organise this event to scratch my own itch and to be with my tribe. Most of the topics we've run at events we chose because we were keen to learn something.
What do you do when you get stuck?
I usually ask for help because it's okay to ask for help. In my previous job, I worked with another user research manager, and we often figured out things together. And that's great. We also had a forum for all managers from research, design, and content, and we could talk about anything there.
Another thing I do is take a baby step, depending on the issue. Find the minimum viable thing that you can solve and start with that because once you start, it's often easier.
What are you most proud of?
All the people that I've mentored in my life. I had a mentor who helped me when I started out. I've always tried to give back to my community, and now I see how my mentees have done so well. I really like that. That's definitely what I'm most proud of.
What book/video/podcast would you recommend?
Indi Young has been a big influence on me in my early career and still is. Mental Models was the first book I read by her. She's written a new book called Time To Listen about empathic listening. I have taken a course on that, she offers these online courses, they are not cheap, but I highly recommend them. If you can do them live and your employer pays, that's probably your best value for money. I did the archived version where you just watch the videos because I had a budget, but I really liked those.
I think service design is essential for us as user researchers. There are two books I like. Good Services by Lou Downe is a lovely read. It's full of lovely typography and all these tips. The other one I constantly still look at is This Is Service Design Thinking by Stickdorn and Schneider. That's an excellent book because it explains what service design is and shares a few methods as well. I think there's a second book out now, This Is Service Design Doing.
I'm very much a meetup and conference person. Pre Covid, I went to lots of different meetups because I just wanted to get inspired and get ideas from other disciplines. A conference I can highly recommend is EPIC – they have so many interesting topics and the people who attend are great.
Does your company have a clear career development path for researchers?
At my previous job, we grew really fast, but we didn't focus on how all these new people who joined the team could grow. So in my last year with them, I redesigned the career framework we had. I wanted to focus on the impact we are making as a researcher, the scope of work and what we are responsible for. I am now working on a career framework for StudySmarter with my user research team, my peers, and HR to make it fit us.
Where do you see the future of UX Research going?
This is a big question. I think we're not going to be replaced by robots because analysis and presenting impactful insights is still our main skill and that's important.
Nowadays, there are more in-house positions than there used to be. This is great because it means that people want to do research more. As a user researcher in-house, you have more visibility into the impact your research has on the products and services you're working on, so I think that's an excellent development.
For me, the future is if we can get more people to see this as a career.
Thanks to Anja for taking the time to speak with me, you can find her on LinkedIn.
You can find The Research Thing on Meetup to see upcoming events and past events can be found on The Research Thing YouTube channel. Anja and the team are always looking for volunteers to help out at their events. Live tweeting, writing blog posts or just helping out on the day are all super valuable. If you'd be interested contact Anja directly.
If you know someone you think I should speak to for this series, do let me know.
---
If you enjoyed this interview and would like to read more like this, check out The UX Life Chose Me newsletter. Subscribe to get interviews like this directly to your inbox once a month.