Today I got up really early and took the train up to Manchester to celebrate World Information Architecture Day 2018 (WIAD). It only took 4 hours and gave me a chance to catch up on some crochet.
The team who run NUX (Northern User Experience) had put together a brilliant selection of speakers for us and all for a ridiculously low price.
First up was Dan Ramsden who works for the BBC. His talk was titled 'What's the point of Information Architecture?' which boiled down to the fact we need IA to help give meaning to things and thus make them useful.
Of course this is harder than it sounds and so he gave us a fish model to help.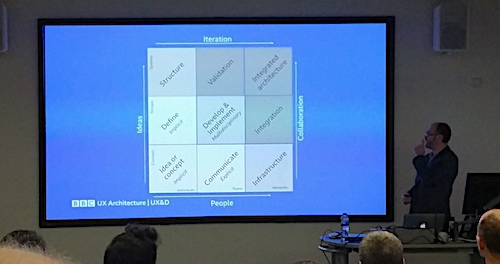 He also talked about how impartiality requires design. People do not tend to look for things that they do not agree with or do not believe and people are lazy and easily fooled. These are all things we need to consider when designing IAs.
He left us with two last pieces of advice.
Be generous, share ideas and knowledge.
Make friends with people who you do not agree with and have sensible discussions with them.
Next up was Sophie Dennis, a lovely lady I had the pleasure of working with several years ago. She spoke on her newest project which is creating a new IA for the NHS website. This is a massive project which makes my recent work at Wiggle look like small fry.
They want the website to become the first place you go before deciding if you need to see a doctor or not. But for that to happen they need to make it easy for anyone to find the problem they have even if they do not have the word for it.
At the moment the information about conditions and services is very fragmented. And with people looking for anything from blisters to chest pain it also has a lot of diverse information which cannot all be treated the same. You hardly want someone getting lost on the website if they have something life threatening.
I look forward to seeing how they get on with this mammoth task!
After lunch Jesmond Allen talked about Task Modelling. I had heard her speak at last months UXPA event so it was interesting to hear her speak on another subject which touched on her last talk.
I was aware of task modelling, although not by that name, but had only used it to help me think about what my user might be doing, while she showed us how to make the most of our research to create one based on what real people are doing.
On top of being a really great model to help designers understand users mental maps, they are also really great tools to show stakeholders where the problems are.
She had some great examples to show us and a really easy process to follow.
Start by really getting to know your users.
Then identify common steps making sure to capture all the sub tasks.
Then using boxes, arrows and washing machines make your map.
I will definitely be having a go at this with my next project.
Next up was Paul Rissen. He spoke about how the internet is in a bad place and how we can work to make it better despite the 'firehose of falsehood' - where it spews out so much propaganda it distracts people from everything else.
His 13 steps are:
Two sides to every story doesn't work
Tolerance is a choice, not a paradox
Attention doesn't equal value
Life is more complex than can be summed up in a tweet
Machine learning will not save us
Find a way to balance agility and responsibility
Remember that science is about doubt, not truth
Recognise the various forms of forcehood
Respect the intelligence of your users
Respect and learn from others outside your domain
Diversity matters. Reflect it
Design for communities
It's ok to change your mind
My favourite quote from his talk is 'strong opinions, loosely held', something I try very hard to do.
Last up was Katy Arnold from the Home Office as our keynote.
She spoke on how to increase digital inclusion. At the moment 10% of adults in the UK have never been on the internet. This might be that they do not have access or the skill or confidence to use it, but 64% do not see the point in using it.
However with most government services going online how do you make sure that everyone can uses these services as it is often the people who need these services most who do not have access. This is also the hardest group to recruit from for testing!
The team at the Home Office believe it is best to help people to learn how to uses these services rather than provide call centres or paper forms. They have been trialing this on one service and have found that interest in their help services is going up as people learn about them.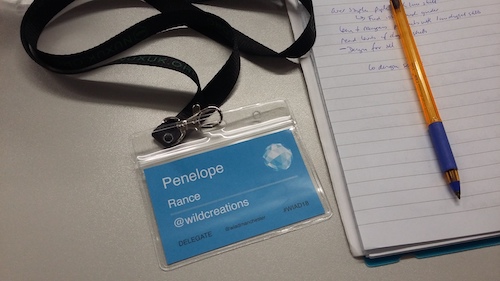 The whole event was great with a really high standard of speakers which made the early start totally worth it.
I also won a prize! Something that does not happen very often. And a useful one too - an Axure licence. So that is is exciting and something new to learn.
It was also pretty cool to be part of something taking place in 56 locations across 25 counties!
Massive thanks to the team for organising it and to everyone who spoke.