UXDI Week 1: 31 Aug - 4 Sept 2015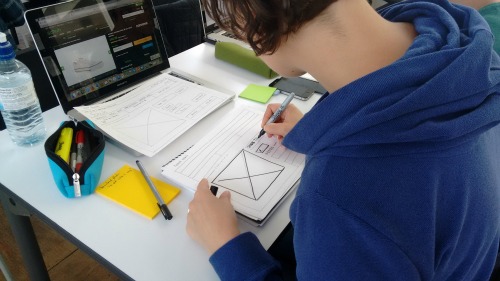 It's a week since I started my new adventure on UXDI (User Experience Design Immersive) with General Assembly (GA). It doesn't feel like a week, it feels more like a year with all the information and activities they have packed into it.
We started on a wet Bank Holiday Monday - too much to cover to miss a day, and who really minded as the rain came down outside.
Weirdly we are based exactly opposite where I did my paper making course a couple of years ago!
There are 18 of us, mostly guys but I'm used to that, with tutor Andrew and Luis, Mollie and Tom in support - all ex students from the course.
The atmosphere is great, with lectures in the morning and workshop in the afternoon, letting us put into practice what we've learnt that day straight away.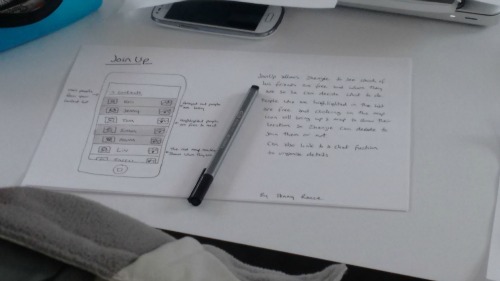 This first week has been all about learning the basics; a little bit of user research, some sketching and some prototyping. Put like that it doesn't seem like so much but the real list goes:
Stand up (were we cover what we did yesterday, what we'll do today and any problems we're having - all in 30 seconds)
User Research
User interviewing (including the 5 W's and a H - Who, What, Where, When, Why and How)
Participatory Design (where you work with your user to create designs)
Concept maps (bit like a mind map)
Sketching ideas and interfaces
User flows (both tasks and page flows)
Storyboarding
Paper prototyping
Prototyping using POP app
User testing (to make sure your idea works)
All of this with the premise that we design an app for our design partner which will help them in their day to day life to be presented to the class by the end of the week.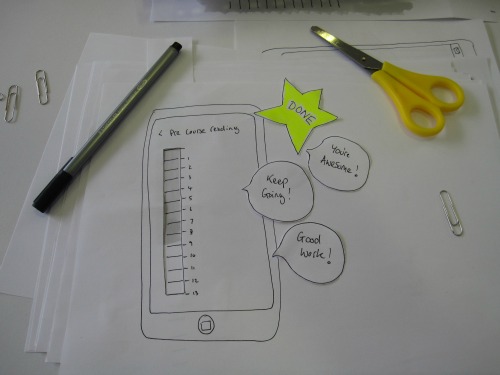 It felt like a bit of scramble, but we all did it, and some of the ideas and presentations were pretty good, with, I think we worked out, only really about a day and a half to work on them.
We should get a bit longer for the next project…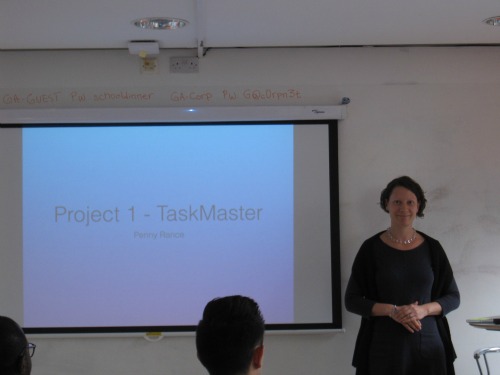 My biggest issue has been the commute into and out of London every day. The whole journey door to door takes just over one and a half hours which has knocked my morning runs on the head and cut the amount of time I can spend with my husband. But I have tried to make use of that hour on the train each way, sketching and writing notes although there is only so much you can do on a train. I have no doubt that this will get better the more I do it.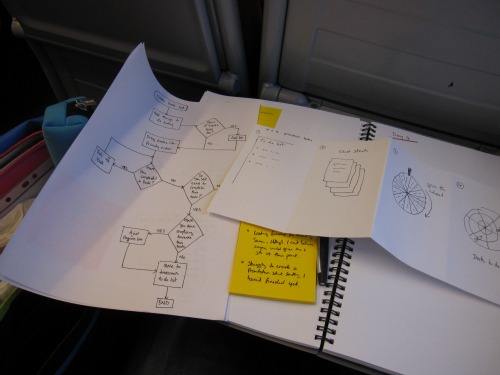 When they named the course Immersive they really meant it and with 9 more weeks I feel a mixture of excitement about what we will learn next and slight trepidation about the work still to come, but I imagine that's because its 7am and I'm sleepy and writing this on the train (see, I told you I tried to make good use of that hour).
It's been a good week, and I can say I have learnt tonnes, I know that I will learn tonnes more and I haven't been bored at any point (one reason for leaving my job). I look forward to next week and building on what I've learnt so far.
[Originally posted on my creative blog - Wild Creations]