I have been attending the Ladies that UX meet ups for a good year and a half now and really enjoy them. But it can sometimes be a bit of a pain having to get across London to the venue in time. This was especially the case when I was travelling in from Guildford to attend them.
So imagine my joy to have todays event hosted in my company's office!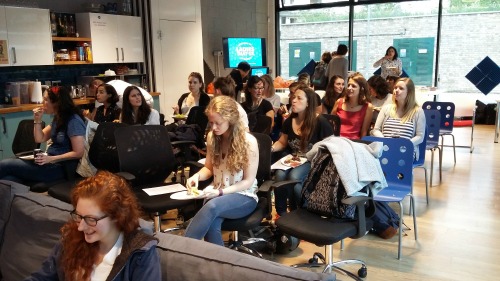 We moved into the lovely new offices just after Easter and once I had seen the space I knew it would be perfect for a meet up. When I asked our office manager he was really up for it and so I offered the space to the Ladies that UX.
Like most meet ups who do not have a regular place to meet they are always on the look out for suitable spaces and it is only through our members and the generosity of their employers that we have somewhere to meet every month.
As the first meet up in the office there were a few last minute things to do, like warning signs on the kitchen doors to stop people walking in half way though the presentation, and making sure people had access to the wifi codes, but once people started arriving it all ran really smoothly.
"It is only through our members and the generosity of their employers that we have somewhere to meet every month"
So what were we doing today?
It was another UX Jam. This time with Edinburgh Sick Kids which is a charity which works with the Childrens Hospital in Edinburgh to help sick children feel 'normal' while being treated.
Our brief was to come up with a way to say thank you and show some of the amazing donations they have received but also to make it easy to donate.
We were split into groups and had just over an hour to look at the problem and come up with some sort of design.
There was so much to think about with this project that an hour really was not enough to catch everything and get right down into the detail. But it did give us the chance to come up with some interesting ideas on how it might work. My favourite idea was the clickable 'cat', so hidden things, maybe cats, within the images on screen which you could look for and collect if you knew they were there.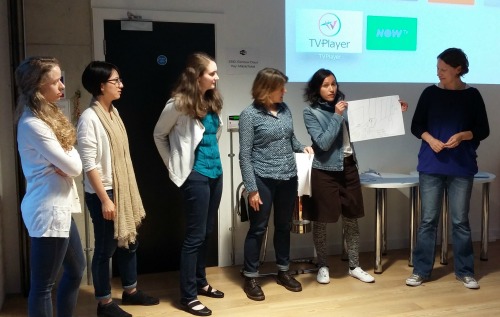 And as always I was so impressed with the variety of ideas which people came up with from the same brief. Ros the CEO of the charity was clearly impressed by the ideas we produced and I look forward to hearing how the project progresses in time for the opening of the new Childrens Hospital next year.
So another great meet up and many thanks to Masabi for allowing us to use their offices, guess I might have to leave the office for the next one.