I started my working life on the deli counter of my local Waitrose, while I did my A-levels and then went to college. It was only nine hours a week but it gave me many skills I still use now.
For instance, how to communicate with people, how to deal with problems and how to smile at a customer even when they are being rude.
This set me in good stead to join the working world, and while I am glad not to be working in that role any longer, without it I would not be the person I am now.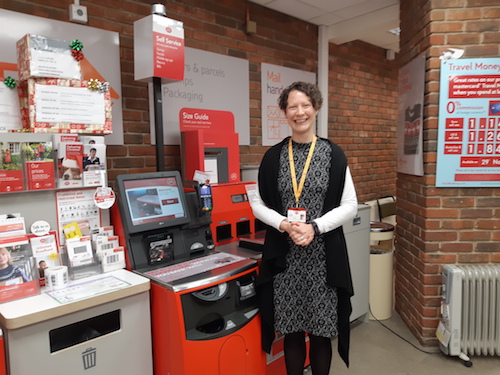 So it was a bit of a blast from the past over the last couple of days as I have been working in my local Post Office as part of a scheme called Golden Days.
Over the course of December there are 9 Golden Days (the days deemed the busiest) where people from Head Office go to help out in branch. Everyone signs up for 3 days in a branch of their choice, where we do whatever is needed to keep the queues moving and help our colleagues.
This could mean sorting mail, or selling stamps, or in my case helping to look after the Self Service Kiosks (SSK's), because although they are self service there are still things people need help with.
It was a busy couple of days and a great way to gain insight into how people use and think of the Post Office.
As a UX researcher it was a great way to see how people use Post Office services out in the real world and to get a feel for people's attitude to the brand.
While I enjoyed the much smaller commute I am interested to find out if it would be very different if I had gone to a different branch. Would the customer needs have been very different?
I saw a lot of parcel sending and stamp buying but only two passport application requests. If I had been up north instead of down south or in town rather than out in the countryside, I wonder if that would have been different. And does the time of year change this too? Something to think about for next year.
My thanks to the lovely ladies at my local branch who answered all my many questions, and who gave me a real insight into how a Post Office branch works.