Book Review - Think Like a UX Researcher
I had seen that Think Like a UX Researcher by David Travis and Philip Hodgson was coming out ages ago so added it to my Christmas list and crossed my fingers. Lo and behold I was given it as a gift and it was added to my big pile of reading for the year.
It was actually one of the first from the pile that I have read this year as I was really excited to see what they had to say and it is really relevant to my current role. I am already on the User Focus mailing list and find their articles really useful so had high hopes for the book.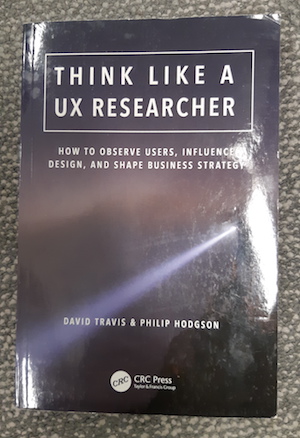 And I have to say I was not let down.
It is a series of articles that have been split into six sections covering what UX research is and why you might want to do some, planning your research, conducting research, analysing your research, getting your results out into the real world and finally how to build your research career.
This is a book for anyone who wants to do UX research. Maybe you are a UX designer who wants to get to know your customers better, or someone like myself, starting out on my UX research journey and looking for ways to improve my work.
I expect that even more seasoned UX researchers will find something of value in this book. After all David and Philip have a massive amount of knowledge between them after 25 years in the business and are very willing to share what they have learnt to help us reach our full potential.
While I did find they were very focused on doing field research, which I would really love to do, but is not that relevant right now, I found that most articles had some gem that I wanted to keep hold of, while others I will be referring back to on a regular basis like 'Two Measures that Will Justify Any Design Changes'.
My book is now decorated with post-it notes, hi-lighter marks and pencil annotations. And rather than sitting on my bookshelf at home, ready for reference when needed, this one is on my desk at work to be thumbed through when I need help or inspiration.
I think what I found most useful was the mixture of theory and practical information, which seemed to always cover the sort of detail I needed. I also found the questions at the end of each article a good way to make me think back over what I had just read.
If you are at all interested in UX research this book is a very good starting point. It has been designed to be dipped into as and when you need it, rather than having to read the whole thing cover to cover, although I would suggest this would not be a bad use of your time. I know I will be heading back to this book time and again.